If you are a UK taxpayer you can confirm Gift Aid with both our online and smartphone donation options. This will increase the amount you give by 25% at no cost to you.
EDINBURGH ELIM: We rely on your tithing to help put into practice our church's vision to bring the Kingdom of God to the city and beyond. This includes the work our Pastor and staff do, the many ministries and events of the church aimed at reaching out to our community, and of course looking after our building. If you have any questions about tithing, please speak to Pastor Gordon.

FABRIC FUND: Edinburgh Elim has a fabric fund to help us pay for essential building maintenance and repairs. The minimum need to maintain our building is the equivalent of 50 people donating £10 a month. Could you help out?

DREAM CENTRE: Find out more about the Dream Centre here. We are looking for some 'Dream Centre Angels' that can enable some new initiatives to get off the ground.
MISSIONS: Find out more about our missionaries and mission work here. Our missionaries live by faith and would appreciate any financial support you are able to offer, either as one off gift or a regular payment..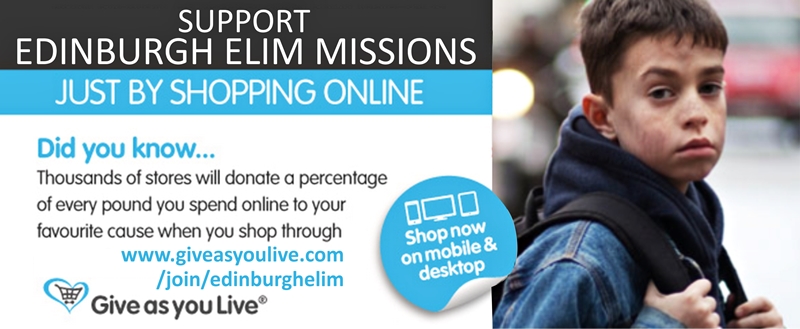 Want to help us raise funds for our overseas work – just by shopping online? Most major retailers such as Amazon and Tesco will donate a percentage of your purchase to Edinburgh Elim Church and it won't cost you a penny extra. Shopping through Give as you Live is no different to shopping online normally, it's just as secure and your shopping will cost you exactly the same. Find out more about Give as You Live 

here  Install Give As you Live

 1. TEXT "CE017″ to 64647

2. You will receive a confirmation text – follow the link given on the text

3. Complete the items requested – your donation amount, your details, and your payment details

4. Done!

Please note: Minimum donation of £2, Requires mobile phone web access and a credit/debit card. Your text is charged at your providers standard rate.